I've had the songs chosen since January, but only got around to actually making some (slight dodgy) cover graphics tonight. (Procrastinate? Me?) It's a little bit of both movie and book canon because I like both.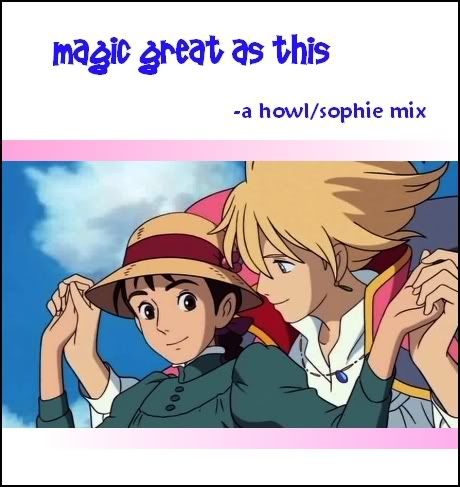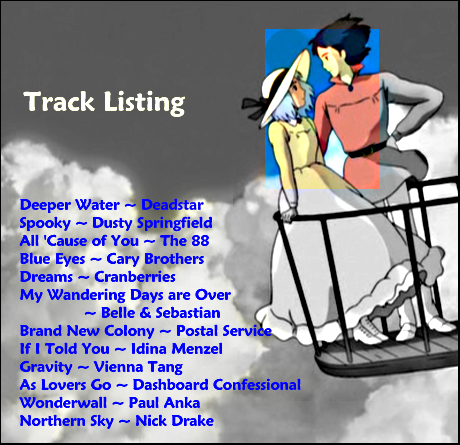 All files are mp3s unless otherwise stated.

1. Deeper Water by Deadstar

I feel myself I'm flying / You look so good in the mirror
I would sell my soul for a record / Of all we've said and done

2. Spooky by Dusty Springfield

You always keep me guessing / I never seem to know what you are thinking
And if a girl looks at you / I know for sure your eye will be a-winking
I get confused / I never know where I stand
And then you smile / And hold my hand

3. All 'Cause of You by The 88 (m4a)

All I want to do is make you mine
I said I love you honey anytime
Don't believe the things they say about me
And all those things you know I'd never be

4. Blue Eyes by Cary Brothers

Cause Blue Eyes / You are all that I need
Cause Blue Eyes / You're the sweet to my mean

5. Dreams by Cranberries

And Oh my dreams
It's never quite as it seems / Never quite as it seems

I know I've felt like this before
But now I'm feeling it even more / Because it came from you

6. My Wandering Days Are Over by Belle & Sebastian

You know my bip-bopping days are over
I hung my boots up and then retired from the disco floor
Now the centre of my so-called being is
The space between your bed and wardrobe with the louvre doors

7. Brand New Colony by Postal Service

I want to take you far / From the cynics in this town / And kiss you on the mouth
We'll cut our bodies free / From the tethers of this scene / Start a brand new colony

8. If I Told You by Idina Menzel

If I told you that I lie sometimes
If I told you that I'd run away
If I told you who I was before
Would you follow me?

9. Gravity by Vienna Tang

Look love / They've given up believing
They've turned aside our stories of the gentle fall

But don't you believe them / Don't you drink their poison too
These are the scars that words have carved / On me

10. As Lovers Go by Dashboard Confessional

For so long I thought I wasn't gonna settle down / But just seeing you makes me think twice

And being with you here makes me sane / I fear I'll go crazy if you leave my side
You've got wits, you've got looks, you've got passion / But are you brave enough to leave with me tonight?

11. Wonderwall by Paul Anka

And all the roads we have to walk are winding / And all the lights that lead us there are blinding
There are many things that I would like to say to you / But I don't know how
Because maybe / You're gonna be the one that saves me

12. Northern Sky by Nick Drake

I never felt magic crazy as this / I never saw moons, knew the meaning of the sea
I never held emotion in the palm of my hand / Or felt sweet breezes in the top of a tree
But now you're here / Brighten my northern sky

Zip file of all songs.